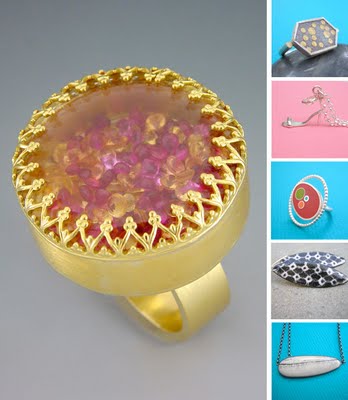 Jewelry designer, Sue Szabo's work is just fabulous – if not a little hard to categorize. All of it is good, but for entirely different reasons. The handmade silver stilletto shoe is so absolutely adorable and girly. Her bold resin work is fun, colorful and modern – and her enamel work has a modern wabi-sabi feel.
One of my favorite pieces is the Bauble ring (top left), which looks like a candy filled toy, but is actually 14 k and 18k gold, filled with faceted rubies and colored sapphires. Delicious, but not edible!
Check out more of jewelry designer, Sue Szabo's work in her Etsy store.