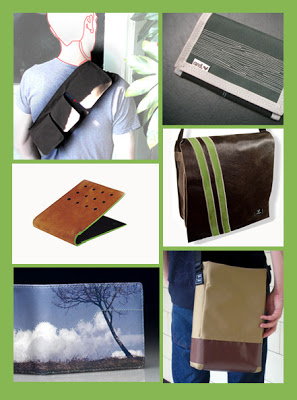 Now, boys, it is okay not to stuff those pant pockets with
e v e r y t h i n g.
I know there is a little bit of a "don't ask, don't tell" policy when it comes to "man bags". I sometimes suspect that there isn't a laptop in that slim and sleek laptop case – but wallet, phone, keys…maybe even some lip balm. Your secret is safe with me….as long as I don't have to wait 30 minutes for you to empty out your blinking cargo pockets at the airport.
Here are a couple of "pocket management systems" to get you started.
CLOCKWISE (top left):
: cummerbund bag, $140 (canvas) $399 (leather), Acton Treadway
: double wide, $30, RandL
: v12, $60, jfold
: small messenger bag, $150, Denis Denis
: this sky, $55, dbclay (I love, love, love this wallet)
: messenger bag with stripes, $162.50, jfold