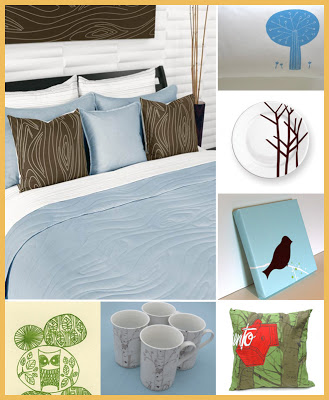 Oh, the joy of walking through the woods. Camping under starry sky; feeling at one with nature. It's breathtaking, well, the smell of the bug spray is.
The wonderful thing is that you can appreciate the outdoors with these super designs….and I think that you'll get a much better night's sleep in Inhabit's wood grain bedding, than in a musty, spider filled sleeping bag.
Clockwise (from top left):
: madera collection, pieces from $60 by Inhabit
: blossom tree throw pillow, $68, three sheets 2 the wind
: season plate, $12, notNeutral
: brown bird, $25, modern art everyday
: birdhouse, $40, fifty24sf, available through The Giant Peach
: personalized set of branch mugs (great wedding gift), $45, Rust Designs
: Green owl (limited edition print of 80), $10, SugarLoop
All the above designs are available directly from the designers. However, since I heard about the new Three Sheets line through Design Public, I'll give them a shout out too.