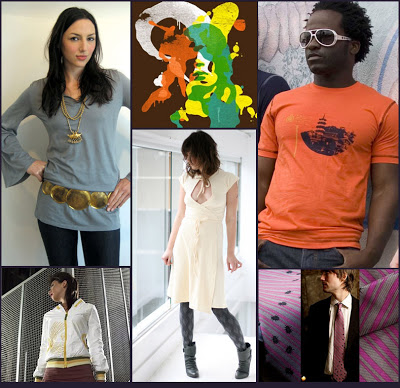 I was pretty impressed with the Thread show at Fort Mason on Saturday. I had to remind myself that I was there to see the work of independent designers, not to spend lots of money. That was quite difficult – the first table was Tank Theory. I still like graphic tees, despite the abundance of them and Tank Theory's artist edition tees were fabulous. I bought 2 for myself and could probably have bought more. The artwork was amazing, although I was not quite into the creepy carnival clowns.
Yes, graphic tee casual is still popular, but there was a hint of modern-vintage-formal. Saa.z had screened vintage shirts and Emily Katz had printed vintage shoes. I quite like the dressier trends at the moment – if only I had somewhere to wear them. Not quite ready to wear heels and a suit to drop off children only to come back home to blog!
Bear in mind that trunk shows like Thread offer the public the opportunity items at less than retail prices, while designers get to sell off their older lines. Meaning, check the designers websites for their new fall lines…now!
Tomorrow: Thread's bags and the one that got away!
CLOCKWISE:
+ boho tunic, $45, she-bible (bought one, love it)
+ split personality tee, $25, tank theory
+ 10, 000 buddhas tee, $30, custom industries
+ beetles tie, $90, sovereign beck
+ keyhole wrap dress, $64, emily katz
+ jacket, skunk funk