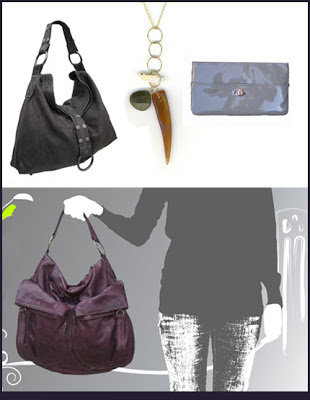 These designers had some wonderful pieces at Thread. I would have happily bought all of them.
The grey riveted bag (top left), was so soft and delicious, I thought I might cry. I need another bag and was thinking about a slouchy dark grey – so it was almost like it was made for me. Alas, my heart said yes, but my checkbook said no. Then my heart said "but you are getting such a great deal off the retail price", in response my checkbook said "yep, but you still can't have it." My checkbook can be such a bitch!
Anyway, I digress…
CLOCKWISE:
+ presidio rivet bag, $660, rebecca ciccio
+ tusk & birdie necklace, $56, ofina
+ barcelona gris clutch, $238, sabrina love
+ big mouth hobo, $595-$750, 49 sq. mi.