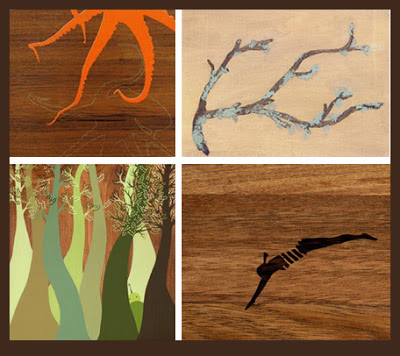 When Joe Futschik of JefDesigns emailed me about his new collection of silkscreen wood panels, I was amazed by the design and touched by the sentiment. One of the pieces, Fritillia, was dedicated to his mother who died from cancer early this year.
Each one is a signed limited edition print and feature a variety of sea creatures. What I love about JefDesigns, is that the work is undoubtedly modern, but the influence of nature boldly apparent.
Of course, any blogger worth their salt would have blogged about the new collection months ago. But, as usual, I felt compelled to find some other wonderful examples of art-on-wood pieces. I did throw in a cutting board, but go ahead, hang it on the wall anyway – it's lovely!
CLOCKWISE:
+ octopus art panel, $150, jefdesigns
+ branch with lichen, $90, groundwork
+ diver cutting board, $38, olze and wilkens
+ mylo, $75, melissa moss (available through WHAT designers)