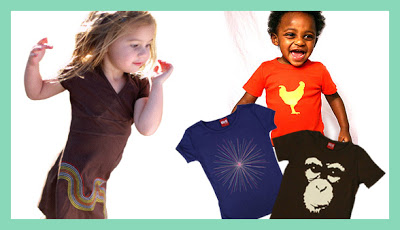 On a recent window shopping trip to Hayes Valley, I happened upon relatively new store. Fiddlesticks (508 Hayes Street, San Francisco). Lovely, lovely kids shop…with what must have been the entire Glug Baby line.
My absolute favorite was a chocolate brown shirt dress with modern embroidered rainbow. If it had been in my size, I would have been seriously tempted.
Fiddlesticks is not selling online (yet??), so to get your Glug Baby fix online go to The Red Balloon for the dress and Pink Gorillas for pretty much the rest of the line.