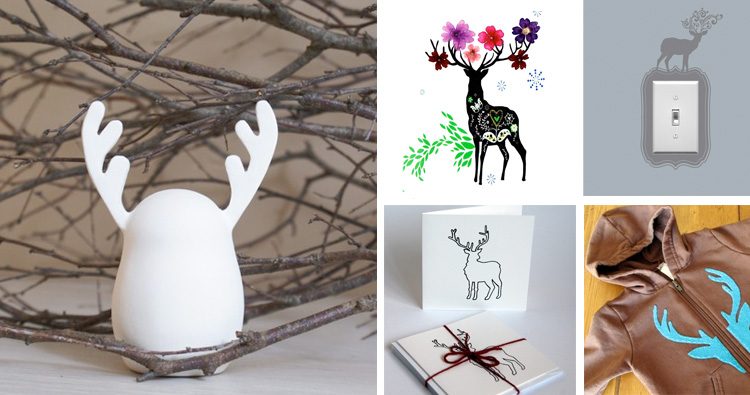 There are some pieces that are just so perfect they stop you in your track. Granted, this often happens when I'm trying to avoid doing something else. Nonetheless this happened when I saw the Oh Deer sculpture by ArtMind which was modern, seasonal and just too cute.
Since I've been avoiding doing laundry for a week – it seemed obvious that I should take this opportunity to blog about stags. Sure deers have been popular for the past couple of seasons, but stags aren't cute cuddle Bambi-type creatures. Stags are powerful and primal and the sort of thing that accompanies a flask of Lagavulin, a deer stalker hat and a brisk walk in the Scottish highlands.
All of this sounds good, but still let's not forget this started out as a post about an adorable holiday decoration, so on that note….goodbye and have a good weekend!
FEATURING:
+ oh deer sculpture, $75, artmind
+ handcrafted deer cards with pressed flowers, $15 for 5, studio flower power
+ deer switchplate decal, $8, byrdie graphics
+ gocco printed reindeer cards, $4.50 for 5, tuesday afternoon tee
+ deer appliqued kids hoodie, $26, finley & oliver