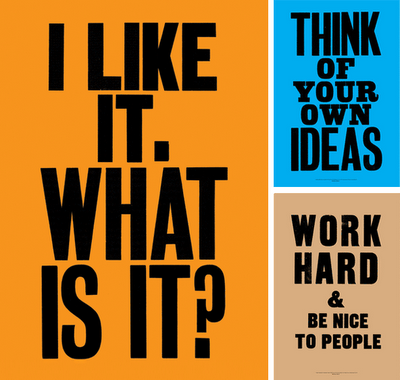 There are some universal truths, there are also some universal words of advice "Keep Calm and Carry On" being on of them. But if you are tired of "Keep Calm…and fill in the blank" there's a new slogan in town. "I like it. What is it?".
It's simple, and for me it's how I see a lot of design. I can't help it, I am just shallow and a bit of a design spectator. I love fashion that I don't have the guts – or place – to wear. I love jewelry that's either too lethal or too delicate to wear around children who will (a) eat it (b) bury it or (c) add it to their spaceship/fort/strange creature.
Most of all – and I don't know why – I love a good old trip to the hardware store. There are bins upon bins of strange looking things that are metal, the weight of a small car and only cost 32c – to that I can only think "I like it. What is it?"
The "I like it. What is it?" poster by British designer, Anthony Burrill is a printed on 100% recycled paper using the traditional woodblock printing method. Each open edition print is hand signed in pencil by the artist.
"I like it. What is it?" and other work is available online through the Anthony Burrill website.