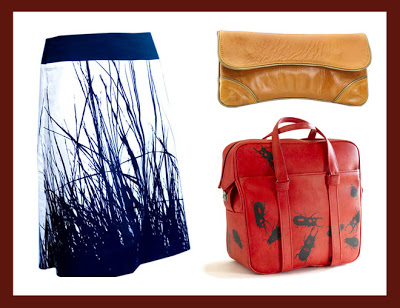 On a whim, I decided to check out the Renaissance Entrepreneurship Center's holiday gift show. I had been to one before and there were a couple of interesting designers….and since I had missed Appel & Frank the week before, I wanted to take a peek at some local design.
My absolute favorite was a delicious orange leather "coffee clutch" by Lulu and Mac, $164. The leather was buttery, the color was sublime, and it fit in my hand like it was made for me. If I thought that I could leave home with anything smaller than a suitcase, I would have bought it in a heartbeat! Available online directly from the designer.
Aliaison's line of limited edition printed aline skirts, $190, are made by transferring photos directly to fabric. Most of the designs are close ups of the natural world, such as bark, flowers and grass. I was expecting the fabric to be a bit board-like, but it was surprisingly soft and the skirts had flattering line. Available online directly from the designer.
Finally, I just love the surreal contrast of pretty little bags with ants, prawns and fabulously creepy bugs by Vintage Untamed. What makes these bags so amazing is that designer, Liz Saintsing, scours local vintage shops and flea markets to find the bags, then takes them back to her studio to screenprint. Each one is unique so contact the designer directly to see what she has available.