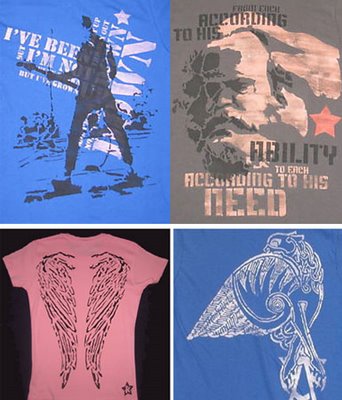 A Cornish Tea is a lovely scone with jam and clotted cream served with a fresh pot of char. It really is one of the best things in the world – although at a million calories give or take – it's really not an everyday treat.
Of course, these are entirely different tees, and just as delicious! The hand stenciled design of Scrubber Johnnies encaptures a skater/surfer vibe with a not so subtle nod to 80's music and other cultural phenoms. Carl Marx, The Clash and Morrisey and Oscar Wilde fill out the repetiore. I bought one of their Mawgan Porth t-shirts, mostly to be touristy, but it's so much more than an "I Love Newquay" t-shirt.
I guess I must mention that these t-shirts are the work of my husbands cousin and wife, but I don't think that I ever met them and I loved the t-shirts before I even knew – so that doesn't count as nepotism, does it?
T-shirts are £12.00 (about $24 these days) through the Scrubber Johnnies. UK and international shipping available.