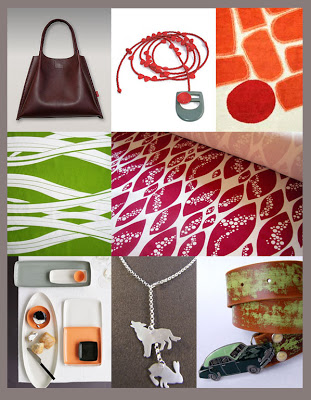 I spent 3 years in Australia and just loved it…although back then it was a little bit of a design waste ground.
All that has changed. Being isolated seems to have fostered a climate of creativity that looks beyond trends from US and Europe. Goodonya mate!
CLOCKWISE (from top left):
+ "flippod" leather bag, $169AUD + free worldwide shipping, from chenny k
+ wrap necklace / belt / etc, from jane pollard
+ "sun" rug, dinosaur designs
+ "river rock" design, lara cameron
+ te. kuruma belt, $88AUD, te
+ "wolf + hare" necklace, $176AUD, a skulk of foxes
+ platters, mud australia
+ "take the tube" fabric, $11USD per 1/2 metre, metremade
An Australia dollar (AUD) is worth about 81 cents in USD – today. So that's like a 19% discount…woo hoo!